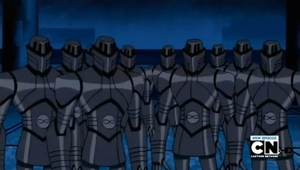 Portrayed by:
Appearence
Edit
.
Personality
Edit
.
Abilities
Edit
.
.
.
Relationships
Edit
.
Appearances
Edit
Dial 'A' for Alien
Edit
"A Little Trouble"
"The Mask of Ah Puch"
"More Than Meets the Eye"
"One Lucky Day"
"Mirror Image"
"Dungeons and Dragons"
"Doomstar Rising"
"Modern Tech"
"Villains" (cameos)
"Heroes and Villains" (cameo)
"The Time Warrior"
"Ghosts and Bones"
Dial 'A' for Alien: Fame
Edit
"Six Weeks Later" (TV only)
"Save Andreas"
"Hero"
"Frauds"
"Cosmic Destruction"
"The Creature From Beyond Escapes"
"Flesh and Stone"
"Order of the Eternal Knights"
"Cousin Miranda"
"Saint George and the Dragon"
"The Ghosts of Gorvan's Past" (Flashback only)
"The Return of Sabanur" / "Let The Dragon Come" / "The Ultimate Ending"