Portrayed by:
Appearence
Edit
Chunk will rock your world! This gargantuan creature sports protective shoulder spikes, while his ferocious fists are ready to smash whatever enemy gets in his way. Chunk's oversized limbs are fully posable, making him ready for hours of imaginative fun. As an added bonus, the press of a hidden head spike will spin Chunk's expression from friendly to fierce! No batteries necessary.
Chunk appears to be based on the short-lived Rock Lords toyline from the 1980s.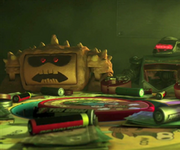 Personality
Edit
.
Abilities
Edit
.
.
Toy Box: The Movie
Edit
.
.
.
Toy Box: Total Recall
Edit
.
.
.
Relationships
Edit
.